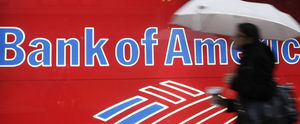 For the first time, a major U.S. bank has been found liable for fraud in the sale of defective mortgages during the lead-up to the 2008 financial crisis.
On Wednesday, a federal jury in New York found Bank of America guilty of defrauding taxpayers in the sale of thousands of defective home loans from its Countrywide Financial unit to the government-backed mortgage giants Fannie Mae and Freddie Mac.
The civil suit centered on a lending program referred to within Countrywide as "the Hustle." According to prosecutors, the program was designed to process mortgages at rapid speed without adequate checks on risk. Bankers were allegedly awarded bonuses based on how quickly they were able to originate loans. Countrywide earned $165 million on the program, but when the mortgages later soured, Fannie Mae and Freddie Mac were left with more than $1 billion in losses.
The jury of six women and four men also found a former Countrywide executive, Rebecca Mairone, liable for her role in leading the Hustle initiative. An attorney for Mairone, who now works for JPMorgan Chase,
told The New York Times
that his client "never engaged in any fraud because there was no fraud. We'll fight on."