Arrest of 47 people over alleged coup plot sparks fears of hidden ultra-right network.
It has the elements of a thriller: a shadowy group of right-wing former soldiers, a mafia don, extremist lawyers and politicians; hand-grenades in a rucksack; plots to kill the Prime Minister and a Nobel-prize winning writer; allegedly planted evidence and falsified wire taps.
Even the name of the villains - the Ergenekon network - has an airport paperback flavour, and the stakes involved are high: the stability of one of the world's most strategically important countries. This highly charged political reality is splitting Turkey.
In the coming days the Ergenekon investigation will reach its climax. According to newspaper reports, a long-awaited indictment will be issued by the state prosecutor. After successive waves of arrests, 47 people are in custody. They include senior figures in the ultra-right-wing Workers' Party, a dozen retired senior army officers, journalists and a lawyer accused of launching legal attacks that drove Nobel award-winning writer Orhan Pamuk from his homeland.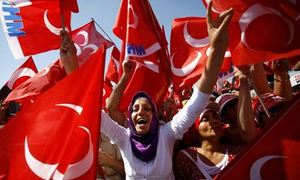 ©Carsten Koall/AFP/Getty Images
Supporters wave flags for Devlet Bahceli in Istanbul, Turkey.