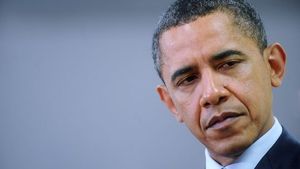 President Obama is in the final phase of determining how many U.S. troops he will withdraw from Afghanistan next month and plans to announce his decision Wednesday, administration officials said.
The announcement is also expected to lay out a glide-path for further withdrawals between now and the end of 2012, including the 33,000 so-called "surge" troops he sent there early last year as part of a broad counterinsurgency strategy that the administration has said succeeded in clearing Taliban fighters from key areas in southern Afghanistan.
The number and pace of the withdrawals, from a current total of about 100,000 troops, has been a contentious issue within the White House and between the administration and the U.S. military, which has warned against a significant withdrawal before gains of the last year are solidified.
The administration had hoped to couple Obama's announcement on troop withdrawals with news of progress on political reconciliation with Taliban leaders. But discussions have stalled following several rounds of talks this spring between U.S. officials and Taliban interlocutors, first in Qatar and later in Germany.