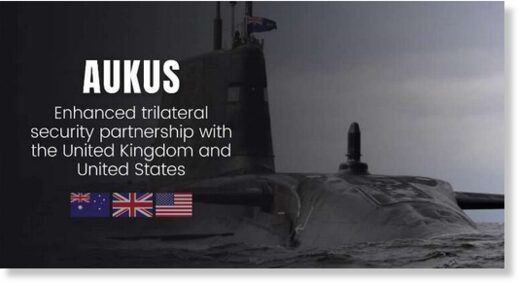 For many, it came as a complete surprise. 'AUKUS' as it is to be known, announced somewhat out of the blue last night, is a security pact between the UK, US and Australia,
focused on countering China in the Indo-Pacific
. Britain and the US will aid their partner in building nuclear-powered submarines, which will be faster and harder to detect than the conventional submarines Australia currently possesses. In addition the three allies will cooperate in the areas of cyber security and artificial intelligence.
None other than the French Foreign Minister was visibly angry at the announcement of the brand new Trilateral Alliance when he spoke to French media on Thursday, referring to the move
as a 'stab in the back' and a 'betrayal of trust' by the Australians.
His indignation is understandable given in a few short minutes last night it was revealed that the pact will effectively replace the €50 billion 'Future Submarine Program' Australia had been working on with France for years.
It speaks volumes about the disregard which these allies have for their European ally, the fact that an announcement of this proportion could be made without any consultation with their NATO partner.
One can see where the alliance has evolved from. It is a strictly 'Anglo' pact, excluding other European allies and fits in with Boris Johnson's idea of a 'Global Britain' widening its reach in the Indo Pacific. Now that Johnson has removed Britain from the security ties that came with European Union membership, he can pursue his own geopolitical strategy, which as I have written
before
, is reminiscent of nineteenth century British imperialism. Britain is simply itching to play policeman in the Indo-Pacific, and Australia enables it to do so.