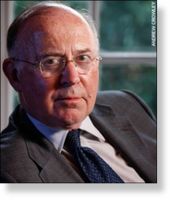 The British House of Lords is commonly understood as the place where career politicians get to snooze away their twilight years on plush red-leather seats to the faltering drone of their fellow Lords and Ladies. Things proceed at a slow pace in the 300 year old chamber, particularly given that its members have no real influence over the government and limited power to veto any bills sent their way from the lower House of Commons.
It was with some surprise therefore that the remarks of 'Lord James Blackheath' aka plain old David James were received on Nov 1 2010.
Lord Blackheath began his 15 minute speech with a breakdown of the woes of the British economy and the retail sector in particular and appeared to forecast a "massive collective bankruptcy". The most intriguing elements of his discourse however were, a reference to a "Foundation X" which, he claims, is prepared to bail out the UK economy to the tune of hundreds of billions of British pounds, and a very candid admission that, on behalf of the Bank of England, he, Lord Blackheath, had laundered money for the IRA and "North African terrorists". As regards the latter group, Blackheath claimed that he could not say any more because it was "still a security issue".
Transcript and video below: