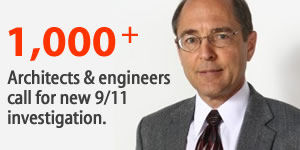 The two main players in releasing the Pentagon Papers were Daniel Ellsberg and United States Senator Mike Gravel.
Senator Gravel is the person who read the Pentagon Papers into the Congressional Record. This act made the papers public record, so that they could not be censored by the government. He was the only member of Congress courageous enough to do so.
Both Ellsberg and Gravel - like
many other high-level former officials
in the government and intelligence services (including
many well-known whistleblowers
) - support a new 9/11 investigation. Ellsberg
says
that the case of a certain 9/11 whistleblower is "far more explosive than the Pentagon Papers". (
Here's some
of what that whistleblower says.) He also said that the government is ordering the media to cover up her allegations about 9/11.
And he said that some of the claims concerning government involvement in 9/11 are credible, that "very serious questions have been raised about what they [U.S. government officials] knew beforehand and how much involvement there might have been", that engineering 9/11 would not be humanly or psychologically beyond the scope of those in office, and that there's enough evidence to justify a new, "hard-hitting" investigation into 9/11 with subpoenas and testimony taken under oath (see
this
and
this
).