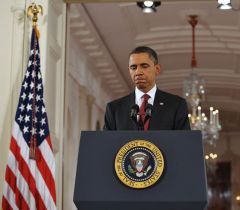 If there is one thing that the office of President Barack Obama demonstrates, it is that democracy does not exist in the United States. This may seem a rather outlandish statement. For many people, the fact that the 44th president is the first black man to preside over the White House - with its American colonial-style architecture - is a tribute to the triumph of US democracy.
But many other more telling facts indicate that Obama is but a figurehead of an unelected government in the US. This unelected power of corporate elites - commercial, financial, military - governs with the same core policies regardless of who is sitting in the White House. Whether these policies are on social, economic or foreign matters, the elected president must obey the direction ordained by the unelected elite.
That kind of untrammeled power structure conforms more closely in practice to dictatorship, not democracy.
As Michael Hudson and Ellen Brown reveal in their analyses of the US budget debacle, Obama is pathetically doing the bidding of Wall Street - much like an errand boy [1] [2].