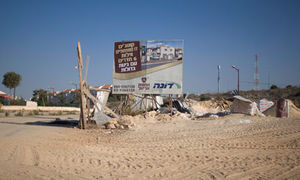 The Palestinians accuse Ehud Barak of contempt for peace talks by giving approval for building of 277 homes in Ariel
The Israeli government has authorised the construction of 277 homes in the West Bank settlement of Ariel, a move that will diminish the prospects for a resumption of peace talks with the Palestinians.
An announcement from the defence ministry said approval for the scheme was given last week. The government also backed the building of 1,600 homes in the East Jerusalem settlement of Ramat Shlomo. Further announcements are expected in the coming days.
Ariel, home to almost 20,000 Israelis, extends 12 miles (20km) inside the West Bank. Its future under any agreement on borders with the Palestinians is uncertain.
Israel is determined to annex such a large settlement, but the Palestinians and many in the international community argue that it would cut the West Bank nearly in two, making a contiguous Palestinian state almost impossible.
The housing units had been in the planning process for several years before being approved by the defence minister, Ehud Barak. One hundred homes will be reserved for settlers evacuated from Gaza in 2005; the remainder will be sold on the open market.
The Palestinian Authority said the approval "makes clear to the world Israel's contempt for a negotiated two-state solution". Israel, it said in a statement, was "racing against time to make the two-state solution harder and harder by building on the land that is supposed to be the Palestinian state. The international community must ask Israel how it can pretend to be ready to negotiate while expanding Jewish settlements in the West Bank?"