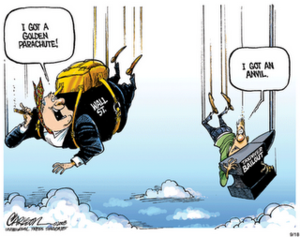 Thirty large and profitable U.S. corporations paid no income taxes in 2008 through 2010, said a study on Thursday that arrives as Congress faces rising demands for tax reform, but seems unable or unwilling to act.
Pepco Holdings, a Washington, D.C.-area power company, had the lowest effective tax rate, at
negative 57.6 percent
, among the 280 Fortune 500 companies studied.
The statutory U.S. corporate income tax rate is 35 percent, one of the highest in the world, but over the 2008-2010 period, very few of the companies studied paid it, said the report.
The average effective tax rate for the companies over the period was 18.5 percent, said Citizens for Tax Justice and the Institute on Taxation and Economic Policy, both think tanks.
Their report
also listed General Electric Co, Paccar Inc, PG&E Corp, Computer Sciences Corp and NiSource Inc as among the
30
that paid no taxes
. All 280 corporations examined were profitable over the period.