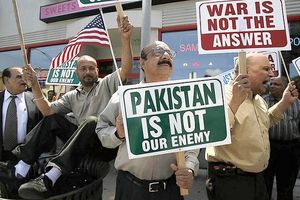 Obama does his Bush impression
The "lasting commitment" Washington war-time summit/photo-op between United States President Barack Obama and the AfPak twins, "Af" President Hamid Karzai and "Pak" President Asif Ali Zardari was far from being an urgent meeting to discuss ways to prevent the end of civilization as we know it. It has been all about the meticulous rebranding of the Pentagon's "Long War".
In Obama's own words, the "lasting commitment" is above all to "defeat al-Qaeda". As an afterthought, the president added, "But also to support the democratically elected, sovereign governments of both Pakistan and Afghanistan." To have George W Bush's man in Kabul and former premier Benazir Bhutto's widow defined as "sovereign", one would be excused for believing Bush is still in the White House.