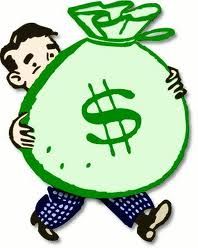 On June 30, QE2 ended with a whimper. The Fed's second round of "quantitative easing" involved $600 billion created with a
computer keystroke
for the purchase of long-term government bonds. But the government never actually got the money, which went straight into the reserve accounts of banks, where it still sits today.
Worse, it went into the reserve accounts of FOREIGN banks, on which the Federal Reserve is now paying 0.25% interest.
Before QE2 there was QE1, in which the Fed bought $1.25 trillion in mortgage-backed securities from the banks. This money too remains in bank reserve accounts collecting interest and dust. The Fed reports that the accumulated excess reserves of depository institutions
now total
nearly $1.6 trillion.
Interestingly, $1.6 trillion is also the size of the
federal deficit
- a deficit so large that some members of Congress are threatening to force a default on the national debt if it isn't corrected soon.
So here we have the anomalous situation of a $1.6 trillion hole in the federal budget, and $1.6 trillion created by the Fed that is now sitting idle in bank reserve accounts. If the intent of "quantitative easing" was to stimulate the economy, it might have worked better if the money earmarked for the purchase of Treasuries had been delivered directly to the Treasury. That was actually how it was done before 1935, when the law was changed to require private bond dealers to be cut into the deal.
The one thing QE2 did for the taxpayers was to reduce the interest tab on the federal debt. The long-term bonds the Fed bought on the open market are now effectively interest-free to the government, since the Fed rebates its profits to the Treasury after deducting its costs.
But QE2 has not helped the anemic local credit market, on which smaller businesses rely; and it is these businesses that are largely responsible for creating new jobs. In a June 30 article in the
Wall Street Journal
titled "Smaller Businesses Seeking Loans Still Come Up Empty," Emily Maltby reported that business owners rank access to capital as the most important issue facing them today; and only 17% of smaller businesses said they were able to land needed bank financing.