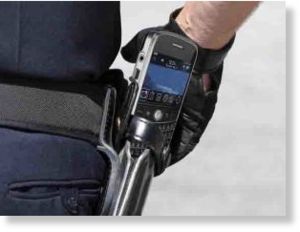 Bill would overturn court ruling giving police nearly limitless access to arrestees' devices.
Orson Welles' character in the 1958 movie
A Touch of Evil
, says, "A policeman's job is only easy in a police state." That line is often cited when issues of police policy come before the public. It's an important idea: Free societies should be more interested in protecting the rights of the accused than in making the job of the police too easy.
Unfortunately, the California Supreme Court lost sight of this ideal this year with its decision in
People v. Diaz
, which gives law enforcement a nearly limitless right to conduct warrantless searches of the personal information, files, messages and photographs of people under arrest. Now, Senate Bill 914, which could reach the Senate floor as early as Thursday, would essentially overturn that decision and put some limits on the wide-ranging searches officers can conduct without a warrant.
In the past, courts had allowed police to search an arrestee for items such as cigarette packs, where drugs could be stored, for instance. The court in the Diaz decision expanded that right to include searches of an arrestee's cell phone, reasoning that the phone isn't much different from other incidentals found in a person's pocket. In this case, police searched the text-messaging files of a man held on a drug charge nearly 90 minutes after his arrest.