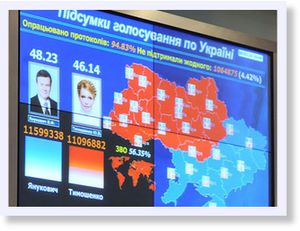 The Ukrainian "orange revolution" lived through one presidential term. Like the rest of the coloured revolutions, it basically amounted to a coup d'état orchestrated by Washington through the manipulation of public opinion. As usual, it was the economic results of the team in power that sparked widespread disenchantment. While promising western prosperity, the government's only goal was Ukraine's accession to NATO. It's defeat - and Viktor Yanukovich's victory - deprives Washington of an indispensable piece to achieve the encirclement of Russia.
A decisive vote against NATO
On February 14 Ukraine's Election Commission declared Viktor Yanukovych the winner in that embattled country's Presidential runoff vote, defeating former Prime Minister and Orange Revolution instigator Yulia Tymoshenko. Contrary to the positive spin Washington is trying to put on the events, they mark the definitive death of Ukraine's much-touted "Orange Revolution."