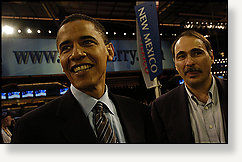 The Washington A-List was out in force Saturday night at the farewell party for senior adviser David Axelrod, with a roster of guests featuring Cabinet secretaries, big shot journos and - President Obama.
As revolution threatened to sweep Egypt and possibly other allies - with the horrifying prospect of Islamism replacing reliable friends - the president was on view partying with the IN crowd.
The skepticism beyond the Beltway about whether Washington is just one big Love-In certainly gets fed by the sight - as conveyed by the press pool report - of reporters like ABC's Jake Tapper, NBC's Chuck Todd,
National Journal's
Major Garrett, and John Harwood of CNBC and the
New York Times
emerging from a bash with the president that was held to toast his chief political fixer and leading spinmeister.
I understand why reporters would do this - other than the admittedly pathetic notion that, gosh, it's fun to party with the president of the United States! It is pretty good for building sources and getting inside dope. But man, it ain't easy smacking the White House with tough stories all the time if you're getting invited to their exclusive parties, now is it?