Puppet Masters
Why are 'tactical platforms' being installed at Walmarts in the USA?


---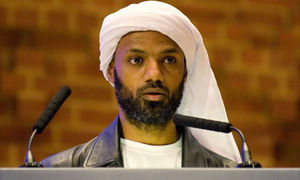 Guardian
contests attempt by MI5 and MI6 to ban disclosure of intelligence-related information in British courts
MI5 and MI6 will argue in a test case before the supreme court tomorrow that in future no intelligence gathered abroad, even if initially obtained through torture, should ever be disclosed in a British court.
Last year an appeal court dismissed what it described as an attempt to undermine a fundamental principle of common law: that a litigant must see and hear the evidence used against him or her.
Now the security and intelligence agencies are challenging that ruling in an unprecedented case. The
Guardian
, the
Times
, the BBC, and the human rights groups Liberty and Justice will argue before the country's most senior judges that if the agencies get their way, the right to a fair trial will be eroded, while public confidence in decisions taken by the courts will be diminished.
---
UPI
Mon, 24 Jan 2011 16:37 UTC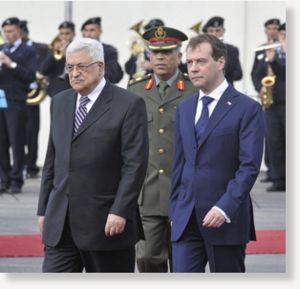 Jericho, West Bank - Russian President Dmitry Medvedev recognized Palestine as an independent state during a visit to Jericho.
Medvedev said since 1988 Moscow has recognized the need for a Palestinian state during his visit Tuesday to the Palestinian city. He said everyone including Israel will benefit from its establishment, Ynetnews.com said Wednesday.
"The Russian position hasn't changed, as I've told the president," Medvedev said. "Russia made its choice long ago, at the end of the '80s. We supported and will support the inalienable right of the Palestinian people to create its own state, which is independent, territorially integral and with a capital in East Jerusalem,"
The Jerusalem Pos
t quoted Medvedev as telling a news conference.
Israeli government officials told the English-language daily Medvedev refrained from explicitly calling for a Palestinian state along the 1967 borders. They said prior to the visit in Jericho, Israeli officials had contacted the Russian delegation and had received assurances there would be no change in Moscow's position, the newspaper said.
Palestinian negotiator Saeb Erekat welcomed Medvedev's statement, calling it "an historic move to make the Palestinians proud for a very long time."
---
Lisa Lambert
Reuters
Fri, 21 Jan 2011 16:17 UTC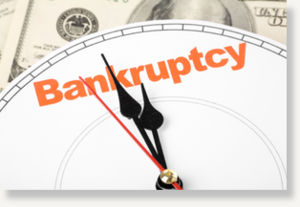 Bill would make it easier to renege pension obligations
Worries about need for state bailout loom over Congress
States, investors unhappy with possibility
Legislation that would allow U.S. states to file for bankruptcy will likely be introduced in Congress within the next month, Newt Gingrich, the former speaker of the House of Representatives and a powerful Republican party figure, told Reuters on Friday.
Although Gingrich, considered responsible for the "Republican Revolution" of the 1990's, is no longer in office, he has deep ties to Congress and is frequently named as a potential presidential contender in 2012.
For months he has championed letting states file for bankruptcy in order to handle their long-term budget problems despite resistance from states and investors in the $2.8 trillion municipal bond market.
"We're faced with the danger that the states are going to try to show up and say to Washington: You have to give us money," Gingrich said. "And I think we have to have an alternative that allows us to say no."
---
Jeff Deasy
Alternet
Wed, 19 Jan 2011 13:35 UTC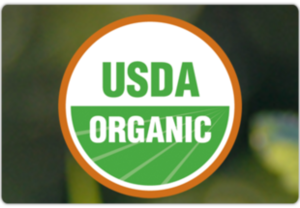 He brought 20 years of experience in organic farming to his government service and he had played a key role in the development of the USDA's organic standards.
The free exchange of ideas is so essential to a healthy democracy, it was particularly disturbing to learn that Mark D. Keating was terminated as an Agricultural Marketing Specialist with the U.S. Department of Agriculture's National Organic Program (NOP) for expressing personal opinions in communications with the National Organic Standards Board (NOSB).
In an interview, Mr. Keating said the official reasons given for his termination were a "complete fabrication." He added, "I was the guy who knew too much."
---
Philip Zimbardo explains how his infamous Stanford Prison Experiment illuminates the horrors of Abu Ghraib and the psychology of evil:


---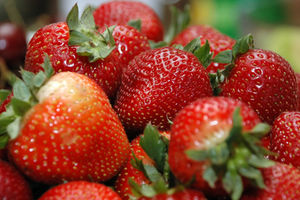 In the days before he left office, Governor Arnold Schwarzenegger's administration planted a chemical time bomb in California strawberry fields that, if not defused, could cause cancer, thyroid toxicity, permanent neurological damage, and miscarriages, according to 54 distinguished chemists, including five Nobel laureates (
PDF
).
The chemical in question is called methyl iodide (or iodomethane) and is marketed under the trade name MIDAS by
Arysta LifeScience
, a Tokyo-based firm that is the world's largest privately held agrichemical company. Methyl iodide is a fumigant that is injected into fields before planting to kill insects, microorganisms, fungi, weed seeds -
virtually every living organism
.
Claiming that it can also kill the humans who handle it or are unfortunate enough to live in the vicinity of farms (
PDF
), a group of farm workers and environmental health organizations filed suit late last year to reverse California's Department of Pesticide Regulation's approval of methyl iodide's use.
---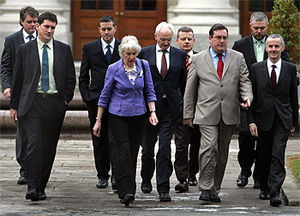 An early general election is on the cards after the Green Party dramatically pulled out of government yesterday.
In the Fianna Fail leadership race , three out of five TDs had yet to publicly declare who they were backing, although Micheal Martin remained the clear front-runner.
Cross-party talks involving Fianna Fail, Fine Gael, the Labour Party, Sinn Fein and the Greens will begin today to find a way to get the law needed to implement the Budget passed quickly.
The opposition is offering to facilitate the debate, but is not promising to vote for it.
But if Finance Minister Brian Lenihan cannot guarantee the Finance Bill will be passed by the end of this week, Fine Gael and Labour are threatening to push motions of no confidence, which Brian Cowen's minority Government cannot win.
Mr Cowen and Mr Lenihan both claimed last night that the legislation could not be passed in just one week, as it was too complex.
---
RTE
Sat, 22 Jan 2011 08:19 UTC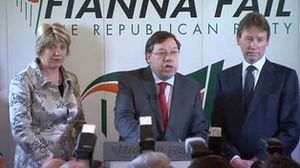 Brian Cowen has said a united party is the most important thing going into a General Election, as four senior party members confirmed that they will contest the leadership of Fianna Fáil.
Brian Cowen has announced that he is resigning as leader of Fianna Fáil.
Speaking at a press conference in Dublin, he said he had made this decision on his own counsel.
He will remain as Taoiseach.
Asked when he had made his decision, Mr Cowen said it was only when he went home last night and discussed the matter with his family, and made a political assessment of the situation, that he decided to come up this morning and make the announcement.
Brian Cowen says that a united party is, in his view, the most important thing going into the General Election.
Speaking in Irish he said he had done 'the right thing' given the events of the week.
---
This video was originally created to be part of an art exhibit for
Exposed the Art Project
, a multimedia collaboration raising awareness of social issues. The group decided that the message in the Deliberate Dumbing Down of America shouldn't be put on hold. So here it is
Please download the free E-BOOK by Former assistant minister of Education under the Reagan administration, Charlotte Thomson Iserbyt. This book is selling for $100 USED on Amazon, but you can download a FREE PDF version at
this link
;
---