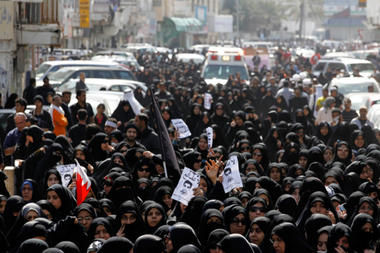 Small protests broke out in Bahrain's capital for a planned "Day of Rage" today despite a ban under martial law imposed last week, but were quickly crushed by security forces fanned out across Manama.
Helicopters buzzing overhead, extra checkpoints erected on major highways and a large troop presence prevented any major demonstration from kicking off in the small Gulf Arab island kingdom, where a security crackdown last week quelled a month of protests by the mostly Shi'ite Muslim demonstrators.
Bahrain has great strategic importance because it hosts the US 5th Fleet, facing non-Arab Shi'ite power Iran across the Gulf, and is situated off-shore from Saudi Arabia, the world's top oil exporter.
Confronted by mass protests demanding constitutional reform, Bahrain's ruling Al Khalifa family, from the minority Sunni population, declared security their priority, called in troops from neighbouring Sunni-led Gulf states and imposed martial law.
But a few hundred protesters managed a short rally in the Shi'ite village of Diraz today, shouting "down with the regime" as women swathed in black waved Bahraini flags and held up copies of the Koran. But they fled when when around 100 riot police fired tear gas and tried to chase them down.