Thousands demonstrate in Deraa as frustration mounts at Bashar al-Assad's failure to deliver reforms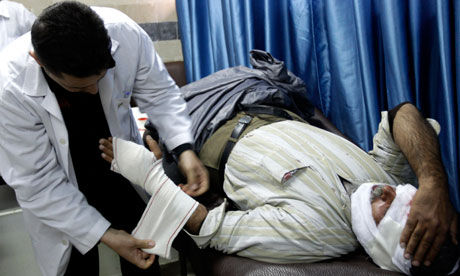 Security forces fired shots and used teargas to disperse up to 4,000 protesters in the volatile Syrian city of Deraa on Monday as frustration mounted at the slow pace of promised reforms.
Despite the widespread presence of security forces, protesters appeared to consolidate their positions in Deraa in the deep south and in the northern port city of Latakia, which are the two main fronts in the challenge to the Syrian regime.
According to human rights activists, more than 150 people have been killed in 11 days of unrest, which have seen protesters calling for increased freedoms.
Syria's president, Bashar al-Assad, who has not been sighted during the protests, is expected to deliver a speech within days.
The government has pledged to lift an almost five decade old emergency law, which - among other things - severely limits citizens' rights to demonstrate. That and other reforms are yet to be implemented.