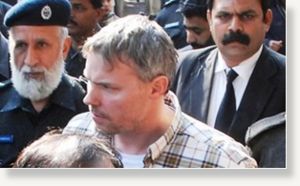 Radiating Raymond Davis was a 'cluster bomb' which not only hit Pakistanis killing three people as well President Obama and his administration. There is no doubt that some elements in the US establishment could not stand and have not accepted a 'Blackman' in a 'White House'. The Clinton camp with Robert Gates included made President Obama lie on tv channels about 'diplomatic immunity' which he never had. Who is undermining President Obama?
Raymond has achieved almost all the objectives of the sub contracted parties (India-Israel) who hired Raymond. For example:
They have managed to successfully discredit all major political parties and its leaders and proved them as US and foreign collaborators/agents
They have managed to discredit the civilian governments, military establishment, judiciary as well as the agencies
Raymond was on a radioactive mission and he himself was radiating
He has radiated his lovers and enemies
He has also pointed to the weaknesses and vulnerabilities of the corrupt Pakistani elite across the board
He has proved that US friendship is cancerous and toxic
Americans living in the USA are the most ignorant about the outside world and their media is the most biased, controlled by a small ethnic racist and blackmailer minority
USA is an occupied country and need to win another war of independence from Wall Street Bankers, and racist supremacists.
A unilateral declaration of independence from Israel is a way forward because US taxpayers are paying very heavy price financially and human cost of this toxic friendship?
Raymond was a symbol of US imperialist mentality and some one else somewhere else might pay the price of this 'halal rescue' arranged by the filthy Zardari - Sharifs regimes in Pakistan.
Afghanistan is a magnet for the empires to come and die it has become a suicide spot for the super powers.