Human rights groups say that more than 100 people may have been killed when troops opened fire on a mosque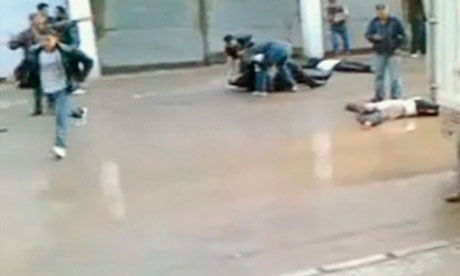 Syria's government pledged to consider protesters' "legitimate demands" after thousands took to the streets for the funerals of nine people killed by the military.
Rights activists described Wednesday's shootings in the southern city of Deraa as a massacre, claiming that more than 100 people may have been killed when troops fired on a mosque in the early hours and throughout the day.
With protests called for after Friday prayers, Buthaina Shaaban, adviser to President Bashar al-Assad, announced that the government would consider ending Syria's emergency law and revise legislation for political parties and the media. Similar reform pledges have been announced in the past, and are unlikely to satisfy protesters.
In Deraa, funeral-goers chanted "God, Syria, Freedom" and "The blood of martyrs is not spilt in vain!", Reuters news agency reported. Some reports said that up to 20,000 people attended, but this could not be verified. The city has been cordoned off .
Deraa's hospital reported receiving 37 bodies from Wednesday's violence.
YouTube videos
apparently showed bloody scenes at the mosque.