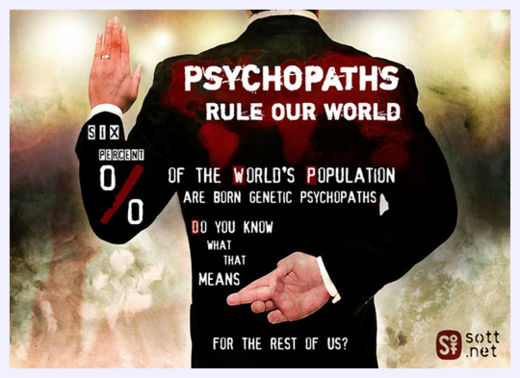 Both the financial elite and their servants who maintain this system, appear to exhibit behavior that is consistent with symptoms associated with a medical disorder known as psychopathy.(*) Psychopaths, also called sociopaths, are categorized as those who exhibit superficial charm and intelligence, and are absent of delusions or nervousness. Their traits include:
Unreliability
Frequent lying
Deceitful and manipulative behavior (either goal-oriented or for the delight of the act itself)
Lack of remorse or shame
Antisocial behavior
Poor judgment and failure to learn by experience
Incapacity for love
Poverty of general emotions
Loss of insight
Unresponsiveness in personal relations
A frequent need for excitement
An inflated self-worth
An ability to rationalize their behavior
A need for complete power
A need to dominate others
Psychopathy is basically an emotional disorder. The book,
The Psychopath,
by James Blair, Karina Blair, and Derek Mitchell, states, "The crucial aspect of psychopathy is ... the emotional impairment." According to Dr. J. Reid Meloy's book,
The Psychopathic Mind,
although psychopaths don't feel emotion in a normal sense, they do experience boredom, envy, exhilaration, contempt, sadistic pleasure, anger, and hints of depression.
Generally, those who believe it's caused by environmental factors use the term sociopath, and believers of the biological theory use the term psychopath. Psychopathy closely resembles Antisocial Personality Disorder (ASPD or APD) or Conduct Disorder (CD) as outlined in the DSM-IV. These disorders are detected using the Psychopathy Checklist-Revisited (PCL-R), the DSM-IV, and other diagnostics.
These character types, comprise about 4% of the population and span every level of society. Psychopaths can be found in every race, culture, profession and class.
Because the term psychopath has been used to describe APD types and sociopaths, in this chapter I'll use it as a universal label for these three character types.