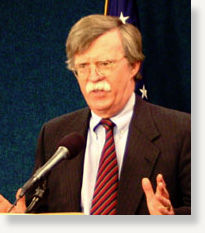 Former US Ambassador to the United Nations John Bolton said the ouster of embattled Egyptian President Hosni Mubarak would speed the timetable for an attack on Iran's nuclear facilities.
"Do you think that the Israelis are going to have to strike - they are going to have to take action?" Fox News Republican opinion host Sean Hannity asked the former ambassador on his radio program Monday.
"As you pointed out, ElBaradei ran cover for the Iranians for all those years that he was with the IAEA. And, I just don't think the Israelis have much longer to wait... they're going to have to act in fairly short order."
"I think that's right," Bolton responded. "I don't think there's much time to act. And I think the fall of a Egyptian government committed to the peace agreement will almost certainly speed that timetable up."