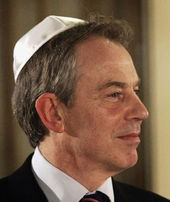 Tony Blair, a man who launched a criminal war with no end, declared once again today that "Radical Islam is the world's greatest threat".
He made the
remark
in a BBC interview marking the publication of his memoirs.
Blair said radical Islamists believed that whatever was done in the name of their cause was justified, including the use of chemical, biological or nuclear weapons.
I can't make up my mind whether Blair's remark is amusing or tragic, for not a single Islamic leader has ever used "chemical, biological or nuclear weapons". If anything, it is Britain and the USA who deployed weaponry that contained depleted uranium. A
recent
study reveals that the cancer rate in Fallujah, Iraq, is worse than it was in Hiroshima or Nagasaki.