Turkish media sources detail information implicating the Israeli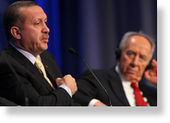 Mossad in a plot to assassinate Prime Minister Recep Tayyip Erdogan.
An e-mail found on a personal computer belonging to one of the members of the underground Ergenekon organization
exposed Mossad's role in the failed assassination efforts against Erdogan,
Turkish media outlets reported on Friday.
The organization has been accused of orchestrating a coup plot against the current Turkish administration.
The indictment list tabled by the Turkish prosecution against the organization says that an Israeli journalist had sent the e-mail to a number of Ergenekon figures to inform them of Israeli readiness to assassinate the Turkish premier.