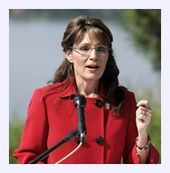 Independence Day weekend in the US started with fireworks. Political fireworks. Former Republican Vice Presidential candidate, Sarah Palin, was not content to see Michael Jackson's death nor the infidelities of fellow conservative hypocri..er...politicians get all the media attention. On Friday she had to go drop a bombshell about her
resignation
. Both naysayers and rabid Palin
supporters
were surprised to hear that she was stepping down as governor of Alaska.
The conservative supporters seem to have been caught
unaware
, so much so, that they did not have an immediate talking point at hand, to explain it all away. Initial reactions to her announcement ranged from puzzlement to dismay to applause. The Sarah Palin
blog
lists a few. However, in the space of a few hours, the usual conservative pundits managed to come up with those handy talking points.