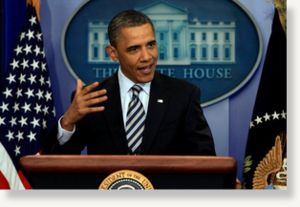 The decision by President Obama to release his "long-form" birth certificate on Wednesday injected the president directly into the simmering "
"birther"
controversy in the hope of finally ending it, as aides said, or perhaps even turning it to his advantage.
The gamble produced dramatic television, as Mr. Obama strode in to the White House briefing room to address, head on, a subject that had been deemed irrelevant by everyone in his orbit for years but had nonetheless figured in conservative efforts to undermine his legitimacy.
Mr. Obama's comments risked elevating the discredited questions about his birth. But they also allowed him to cast his political opponents as focused on the trivial at a time when the nation is facing more important issues.
The fact that much of the recent focus on where Mr. Obama was born has come from Donald Trump, who says he is considering a run for the Republican presidential nomination and who spent the day campaigning in New Hampshire, allowed the White House to use Mr. Trump as a foil, and present the president as a more serious leader than his potential rivals in the 2012 campaign.
"We're not going to be able to solve our problems if we get distracted by sideshows and carnival barkers," Mr. Obama said, a clear reference - though not by name - to Mr. Trump.