"How do I want to rob, cheat and lie to thee. Let me count the ways... military, nuclear, political, academic, media and your law enforcement institutions."
The biggest national security scandal story of our times is the extent that Israeli espionage has gone on here for decades. There is an aspect of the War on Terror on which our elite leadership refuses to level with the public...how terrified our defense, political, counter intelligence and legal institutions are when it comes to rooting them out and shutting it all down. All other terrors pale into insignificance. And they treat this affliction with an age old cure...denial.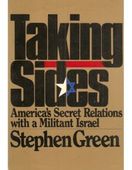 My first exposure to Israeli espionage scholastically was through Steven Green's book
Taking Sides: America's Secret Relations With A Militant Israel
(1984). Green was one of the earliest users of the then new Freedom of information Act, filing hundreds of requests to get previously classified military and diplomatic Intel reports.
The book is a gold mine, so much so that some in the Reagan administration considered a rump prosecution of Green to scare others off from doing similar work. Cooler heads prevailed and they ended up reclassifying some of the best parts of the book despite Green's archives being publicly available at the Hoover institute. There is a phrase to describe this...'contempt for the public'.