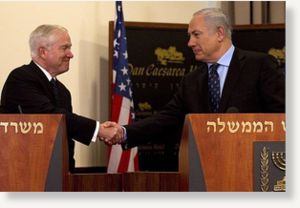 Prime Minister Benjamin Netanyahu told US Defence Secretary Robert Gates Friday that Israel is ready to act with "great force" in response to a spate of rocket fire by Gaza militants and a deadly bus bombing in Jerusalem.
Israel had been "subjected to bouts of terror and rocket attacks," Netanyahu told reporters before going into a meeting with Gates.
"We stand ready to act with great force and great determination to put a stop to it," he added, with officials saying Israel had not been hit by any projectiles Friday morning.
"Any civilised society will not tolerate such wanton attacks on its civilians," he said.
However, as Netanyahu spoke, Defence Minister Ehud Barak toured the Gaza border with army chief Lieutenant General Benny Gantz, saying that the situation seemed to be calming down.
"In the last 24 hours there has been no fire into our territory, but we continue to monitor the situation," Barak said, according to a statement from his office.
And Barak indicated that if the rocket attacks stopped, Israel would also halt its strikes into the Gaza Strip.
"We don't intend to let the terror organizations again disturb the order but we will do all we need to to return the (military) activity to the border line itself," he said.