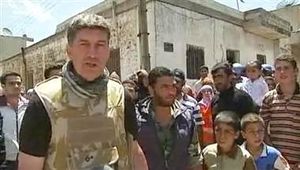 Standing outside the Safir Hotel in Homs as the white UN Nissan landcruisers stood waiting, the Irish officer in charge, Mark Reynolds, came over: "Usual rules Alex OK? We're not responsible for you guys. If you get into trouble we'll leave you, yes? You're on your own."
"Yup - no problem Mark. Understood."
I always say that, sort of assuming it will never come to that in any case.
Just two UN plus the local police white patrol car marked "Protocol" as escort, moving south through the peaceful areas of Homs, unmarked by war.
Barely ten minutes south from the city and it's goodbye protocol. The last Syrian Army checkpoint is right on the main highway south to Damascus.
We're headed west - just follow the direction the tank barrel is pointing next to the parked protocol car and you get the idea.
There's always that slight tightening of the stomach across deserted no-mans-land, but this is open country, no sign of fighting.