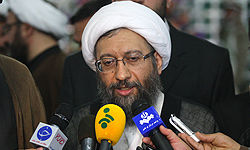 Iran's Judiciary Chief Ayatollah Sadeq Amoli Larijani in a meeting with Syrian Parliament Speaker Mohammad Jihad al-Laham blasted the West's pressures and threats against Damascus, and ensured Iran's full and continued support for Syria.
"Iran feels no doubt about its support for Syria," Amoli Larijani said during the meeting in Tehran on Wednesday, and expressed deep regret over the western countries' oppressions against the friendly and brotherly country of Syria.
He further expressed pleasure in the progresses made in Syria, including the approval of a new Constitution and holding new elections, and said, "Given the abilities that it has the support that it receives from certain countries, we rest assured that Syria will move towards progress and excellence and will, God willing, go past these problems."
Amoli Larijani also viewed Syria's resistance against the Zionist regime of Israel as the root cause of the western countries' pressure on Damascus.
Many regional leaders have praised Syria for its long-term resistance against the arrogant powers and advocates of the Zionist regime.