It's not easy for poor people to get cash assistance in America.
Prior to welfare reform in 1996, 68 of every 100 poor families with children received cash assistance through Aid to Families with Dependent Children (AFDC). But by 2010, under the
Temporary Assistance for Needy Families
(TANF) program which replaced AFDC, just
27 of every 100
poor families received benefits. The rolls shrunk as states were given wide discretion over eligibility, benefit levels, time limits, and how to use their TANF block grants which were frozen at 1996 funding levels and not indexed for inflation.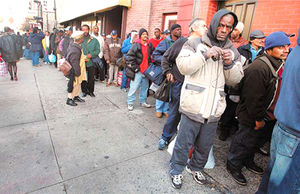 Georgia is known as a
particularly difficult state
when it comes to accessing TANF. According to the Center on Budget and Policy Priorities (CBPP), in 2008-09 for every 100 poor families with children in Georgia,
only eight received cash aid
.
Now the state is set to make its TANF application process even more onerous.
On Monday, Republican Governor Nathan Deal
signed a law
requiring that people approved for TANF receive a drug test within forty-eight hours. They also have to pay a $17 fee for the test and it isn't refunded, even if a person passes. In addition to the financial burden, forty-eight hours can be tough for someone who may need to arrange for childcare, or find transportation to a testing site.