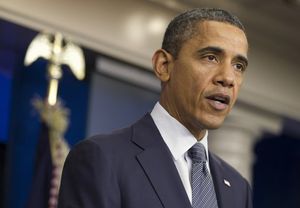 Washington - President Barack Obama on Friday declared an end to the Iraq war, one of the longest and most divisive conflicts in U.S. history, announcing that all American troops would be withdrawn from the country by year's end.
Obama's statement put an end to months of wrangling over whether the U.S. would maintain a force in Iraq beyond 2011. He never mentioned the tense and ultimately fruitless negotiations with Iraq over whether to keep several thousand U.S. forces in Iraq as a training force and a hedge against meddling from Iran or other outside forces.
Instead, Obama spoke of a promise kept, a new day for a self-reliant Iraq and a focus on building up the economy at home.
"I can report that, as promised, the rest of our troops in Iraq will come home by the end of the year," Obama said. "After nearly nine years, America's war in Iraq will be over."
Obama spoke after a private video conference with Iraqi Prime Minister Nouri al-Maliki, and he offered assurances that the two leaders agreed on the decision.