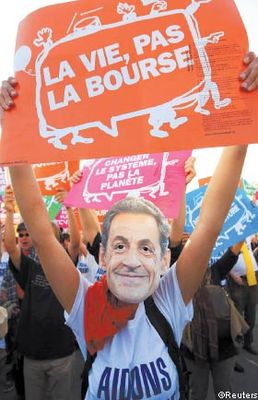 The decision by Greece to
hold a referendum
on the eurozone rescue deal was a bombshell for President Nicolas Sarkozy that not only upended final preparations for the Group of 20 meeting in Cannes but also threatened to damage his re-election strategy.
Mr Sarkozy had worked long and hard to secure the rescue deal, finally agreed in Brussels in the dead of night less than a week ago, to smooth the way to the summit of the world's leading economic powers in Cannes starting on Thursday.
The plan was for the G20 to reinforce the eurozone plan and allow Mr Sarkozy, the summit host, to present a united response to the sovereign debt crisis and a positive message of support for the faltering global economy.
That in turn was meant to be a platform from which the French president could launch his campaign for next April's presidential election.