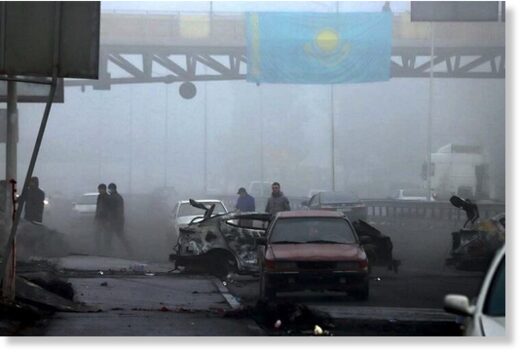 Turkey's President Recep Tayyip Erdoğan is notorious for slippery dealings with supposed allies whether NATO or the EU. However his greatest perfidy seems now to be directed against Turkey's relationship with Putin's Russia. Over the past two or more years in its dealings with Ukraine, Armenia, Syria, Libya and now most recently, in the failed revolution in Kazakhstan, Erdoğan has shown a clear pattern of not merely opportunism but actually perfidy or betrayal of trust, as in double-cross, in his dealings with Russia despite being dependent for energy and advanced defense equipment. Why, is the question.
Erdoğan and Kazakhstan's Failed Revolution
From evidence that has emerged from the recent bloody riots and attacks by armed militants, on the Almaty airport, media and government buildings of Kazakhstan, including the gruesome beheading of at least two police officers by ISIS-like Jihadists, it is clear that
there were two parallel destabilizations going on
. One was the initial façade of peaceful protests against fuel price rises from the government of the energy-rich country which allowed Washington and the EU to call for "dialogue." These were led by "human rights" activists trained by millions of dollars from the CIA-tied National Endowment for Democracy, likely the Soros Foundation-Kazakhstan and various other NGOs
steered
by CIA or MI-6. It's clear that
this was a kind-of "pseudo-Color Revolution" cover
, behind which was a far more nasty regime change coup attempt.