Soldiers use live ammunition on protesters demanding removal of President Saleh, killing at least 12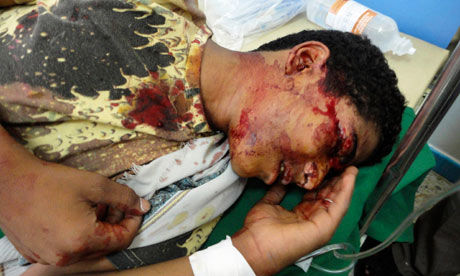 Yemeni security forces and gunmen in civilian clothes have fired on protesters marching through the southern city of Taiz , killing at least 12 people amid reports that the US now wants President Ali Abdullah Saleh to quit.
Witnesses described troops and gunmen, some on nearby rooftops, shooting wildly on thousands of people in a second successive day of violence. Some of the protesters, including elderly people, were trampled and injured as the crowds tried to flee, they said.
"It was heavy gunfire from all directions. Some were firing from the rooftop of the governor's building," said one man in the crowd, Omar al-Saqqaf. He said he saw military police load the bodies of two dead protesters into a car and speed away.
Television showed a row of men, apparent teargas victims, lying motionless and being tended by medics on the carpeted floor of a makeshift hospital in Taiz, 120 miles (200km) south of Sana'a.
The violence began when thousands of demonstrators marched down the main street toward the protest camp in Freedom Square, surrounded by security forces. As the march passed the governor's headquarters, troops blocked the procession, and clashes broke out, with some protesters throwing stones, witnesses said.