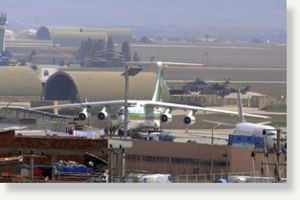 Turkey has intercepted an Iranian cargo plane flying to Syria, ordering it to land southeastern Turkey on suspicions the aircraft might have been carrying military supplies.
Turkish chemical, biological, radiological and nuclear search teams boarded the plane at the Diyarbakir airport and conducted a thorough search for hazardous substances. They reportedly only found 150 tons of food inside.
The Iranian plane was subsequently allowed to depart - allegedly for Aleppo, Syria.
But there are some confusing accounts surrounding the incident.
For one thing, Turkey's foreign ministry has denied reports the Iranian aircraft was forced to land by two Turkish F16 fighters.
The Iranian plane was reportedly operated by a private company, had two pilots and an unknown number of crewmembers on board.
The government of Iran has denied any links to the plane or its cargo. Tehran exports of arms or nuclear materials are subject to an embargo by the United Nations due to the government's refusal to cease its uranium enrichment program.