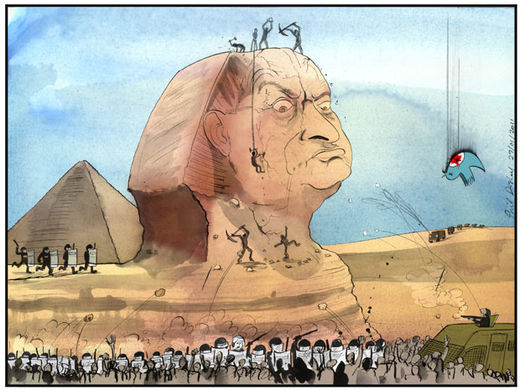 As thousands more Egyptian citizens take to the streets in anti-government protests, the country is in danger of witnessing a bloodbath - at the behest of Washington.
Defying a ban on public demonstrations by the government of President Hosni Mubarak, tens of thousands of Egyptians have for the fourth consecutive day rallied on the streets of the capital Cairo and other major cities calling for his abdication. Inspired by the mass uprising in neigbouring Tunisia earlier this month, which forced its president Zine El Abidine Ben Ali into exile, the protesters in Egypt are likewise demanding Mubarak and his government to quit.
Mubarak's military apparatus has so far shown brutal determination to suppress the uprising. As many as seven civilians have been killed by heavily armed riot police, hundreds are reported injured and more than 1,000 arrests have been made by secret security agents who were videoed bundling protesters into unmarked vehicles. Now the country's formidable military forces are reported to have taken up positions in public places in Cairo and elsewhere.
But it is Washington's latest intervention that could trigger an escalation of Egyptian state violence against its people. Speaking to media, White House spokesman Robert Gibbs described the Mubarak government as an "important ally" and that the US "expects" the 30-year-old regime to remain intact. Forget the hollow and cynical plea by Gibbs to the Egyptian government and protesters to refrain from violence, the key message is continuing US support for the regime. In other words, the US is assuring Mubarak that it stands full-square behind his bid to stay in power. Given that the already-lethal response of the Egyptian state did not draw a word of condemnation from the White House nor that the population's demands for democracy and social justice were unequivocally endorsed can only send the following code to Mubarak:
do whatever you must to get these people off the streets.
Meanwhile, an Israeli cabinet minister probably voiced the unvarnished essence of the US position when he was quoted in Israeli media as urging the Mubarak to use lethal force to quell the protests.
"They will have to use force, power in the streets..." the unnamed minister said.