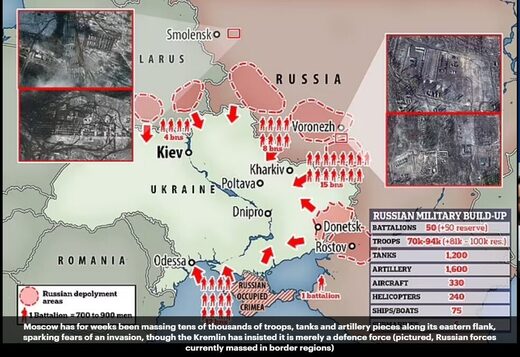 The same US "intelligence community" that brought us 'weapons of mass destruction in Iraq' and 'Trump-Russia collusion'
claimed in November that Moscow is preparing to invade Ukraine any day now.
The harder Moscow denied it as 'fake news', the louder - and more vivid - the allegations became.
Things went into overdrive after high-level security talks between Russia and the US appeared to end in failure
, with Washington rejecting Moscow's 'red lines' out of hand.
Daily Mail draws maps of 'full-scale invasion'
"Moscow [has] moved as many as 100,000 troops, as well as tanks and missiles, close to the border" with Ukraine, the
Daily Mail
claimed
on Wednesday. Variations on this line have been reported by just about every major outlet - and many minor ones - in NATO countries over the past six weeks.