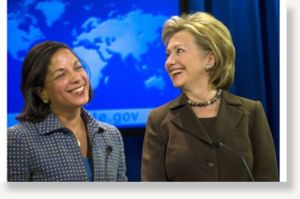 That a diplomatic team led by Hillary Clinton, Susan Rice, and Samantha Power advocated military action against Gaddafi may be a footnote in the Libyan conflict - but it is a significant mark of our nation's evolution, argues John Avlon.
The Libyan airstrikes mark the first time in U.S. history that a female-dominated diplomatic team has urged military action.
Secretary of State Hillary Clinton joined with U.N. Ambassador Susan Rice and the influential Office of Multilateral and Human Rights Director Samantha Power to argue for airstrikes against Libya. Their advice triggered an abrupt shift in U.S. policy, overturning more cautious administrations' counselors.
The circumstances under which the U.S. decided to attack the Gaddafi regime reveal an internal evolution of strategy. Until last week it was assumed the North African uprising against dictatorships would overwhelm the Libyan dictator. But in the absence of an established no-fly zone, he successfully turned the tide against rebels in the eastern half of his nation by strafing his citizens.
In a strange reversal of international stereotypes, French President Nicolas Sarkozy took the lead in arguing for military intervention and organizing an international coalition. (In 1986, French President François Mitterrand had resisted allowing U.S. planes to use French airspace when President Reagan bombed Tripoli and Muammar Gaddafi's palace in retaliation for sponsoring terrorist attacks.) Sarkozy's arguments took on more urgency as it became clear that the Obama administration's inaction was itself a decision that could prove politically pungent at home and disastrous for the people of Libya.