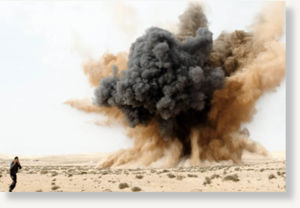 The top U.S. military officer acknowledged on Sunday that a no-fly zone over Libya could create a stalemate with Muammar Gaddafi's forces even as Western warplanes halted the Libyan leader's anti-rebel offensive at Benghazi.
Admiral Mike Mullen, chairman of the U.S. military's Joint Chiefs of Staff, told the CBS program
Face the Nation
that the air mission in the North African country has a clear, limited scope.
But Mullen said the end-game of military action in Libya is "very uncertain." Asked if it could end in a stalemate with Gaddafi, Mullen replied: "I don't think that's for me to answer. Certainly, I recognize that's a possibility."
"It's very uncertain on how this ends," he added.
The aerial assault by U.S., French and British planes stopped an advance by Gaddafi's troops on the rebel-held city of Benghazi and killed at least 14 government soldiers.
The United States says the U.N.-endorsed intervention is aimed at forcing Gaddafi's troops into a ceasefire and end attacks on civilians who launched an uprising last month.
Libya's armed forces have issued a command to all units to observe an immediate ceasefire, a Libyan army spokesman said.