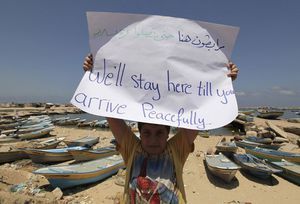 The many mishaps that have befallen 10 ships heading for Gaza have triggered accusations of Israeli dirty tricks
Muggings, alleged sabotage and mysterious fishermen loitering in oily waters: it has all the elements of an average spy novel, but jittery pro-Palestinian activists are alleging that
Israel has masterminded a series of mishaps
that has left their Gaza-bound flotilla in disarray.
In the latest blow to the depleted 10-ship convoy, Greece has arrested the captain of one ship and barred the departure of the other seven ships at its ports, warning that to let them leave would be too dangerous.
If this is the end of the road for the flotilla, it would seem a victory for Israel. It is, after all, a very different ending to activists' efforts to breach Israel's siege of Gaza in May last year when Israeli troops stormed the flotilla, killed nine Turkish activists and drew international opprobrium.