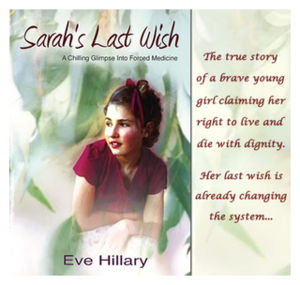 Forced medical treatment is not a rare occurrence confined to grimy hospitals in totalitarian regimes. Medical ethicists report that it is a common event that happens thousands of times each day in developed countries with sophisticated health care systems.
Sarah's Last Wish
is a true story of a brave young girl claiming her right to live and die with dignity. Her last wish is already changing the system...
The cold spring morning of March 24, 2011 promised a routine day as Maryanne Godboldo cleared away the breakfast dishes in her modest two story brick and weatherboard home in East Detroit. Unknown to Maryanne, a Wayne County child protection (CPS) worker was lodging a JCO5B form at the county courthouse. She did not agree with the treatment that Maryanne's 13-year-old daughter Ariana was receiving from her family physician and believed the girl should be medicated instead. The social worker intended to force Ariana from her home later that day and admit her to a nearby psychiatric facility for injections of strong antipsychotic medication.
Over a one month period alone, one US emergency department recorded 314 involuntary treatment orders. According to researchers at University of Louisville School of Medicine, half were psychiatric admissions, while the other 50% were coerced 'medical or surgical admissions'.
Current thinking in medical ethics defines the gold standard of patients' rights to medical decision-making as: '[mentally] competent individuals are allowed to make their own treatment decisions: incompetent ones are not,' according to researchers George Annas and Joan Densberger. This definition works well in cases of mental impairment or to authorize doctors to administer life saving medical treatment to depressed individuals who have declined treatment for a physical condition.
Increasingly though, treatments are forced onto persons who are mentally sound and competent to make decisions, but who merely prefer a different treatment option or wish to attend a different hospital than the ones their doctors prefer.
In some cases, coercion is carried out using potentially lethal force, as experienced by the Godboldo family in Michigan. Once the CPS worker had lodged the form, she returned from the courthouse and parked her government car not far from Godboldo's home. From her cell phone she dialled 911 to ask for police assistance to remove Ariana. When the officer confronted Maryanne at her front door, she asked to see a warrant. Allegedly, when no warrant was produced, Maryanne refused to hand over her daughter and closed her door. The situation rapidly escalated when police summoned backup. Within half an hour the tactical response team had arrived in body armour, with high calibre assault weapons, riot control agents and an armoured vehicle. Why?