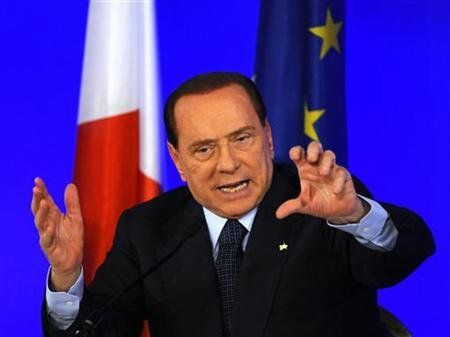 Prime Minister Silvio Berlusconi defied huge pressure to resign on Monday, desperately playing his last cards to save his crumbling government as fears over Italy's instability hit markets across Europe.
Berlusconi denied reports by journalists close to him that he would resign within hours, immediately reversing a brief recovery in stock and government bond markets battered by political uncertainty in the euro zone's third economy.
Yields on Italy's 10-year bonds hit 6.67 percent, their highest level since 1997, at one point on Monday, close to the 7 percent level seen as unsustainable for Italy's huge debt, one of the world's highest. European stocks were also hit by the turmoil.
The movements indicated how much markets saw Berlusconi's departure as the only way to reduce the pressure on Italian bonds which has fueled a revolt in his party, although there is deep uncertainty about what would follow if he stepped down.