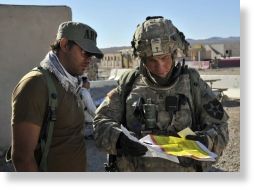 Besides waiting nearly a week before identifying the Army staff sergeant accused of killing 16 Afghan villagers, the U.S. military scrubbed its websites of references to his combat service. Gone were photographs of the suspect, Staff Sgt. Robert Bales, as well as a recounting in his base's newspaper of a 2007 battle in Iraq involving his unit, a report that quoted him extensively. But they weren't really gone.
Given the myriad ways that information remains accessible on the Internet, despite the best efforts to remove it, the material about Bales was still out there and available, such as in cached versions of Web pages. Within minutes of the Pentagon leaking his name Friday evening, news organizations and others found and published his pictures, the account of the battle - which depicts Bales and other soldiers in a glowing light - and excerpts from his wife's personal blog.
So why did the Pentagon try to scrub Bales from the Internet in the first place?