China set a "surrender" deadline after riots in Lhasa that it said killed 10 innocent people, launching a crackdown on Saturday after the worst unrest in Tibet for two decades.
The response came after torrid protests on Friday which flew in the face of official claims the region was immune from unrest as Beijing readies to hold the Olympic Games in August.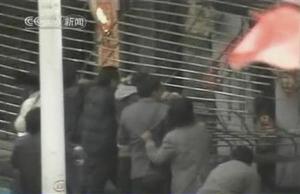 ©REUTERS/CCTV via REUTERS TV
Demonstrators rip open the gate of a Bank of China building during a riot in Lhasa, Tibet, in this frame grab from China's state television CCTV March 14, 2008.