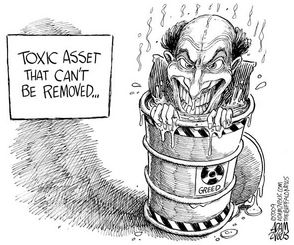 A busy two weeks in the global economy as the taps were opened by governments busy creating new money. Sadly they decided to use it to buy government bonds and worthless "toxic assets" rather than employ and train citizens and build much needed national infrastructure.
Inevitably, with new money flowing into the system inflation will grow further eroding the value of savings and wages, while mobile money will seek a home in commodities thereby adding a double boost to the cost of living for us all. Governments seem to be clinging to the hope that excess supply will dampen the inflationary pressure; a forlorn hope. China and Russia called for a new global reserve currency clearly losing patience with the US pretense at global economic leadership.
The US Congress became "
a rat's nest of grandstanding
" on the issue of AIG bonuses while remaining silent on the
secrecy of the Federal Reserve
as to who's been receiving the trillions in bailout money and on Goldman Sachs receipt of over $12 billion in AIG bailout money.