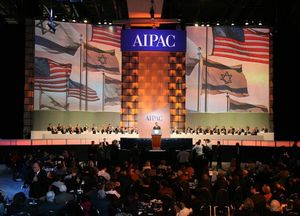 The American Israel Public Affairs Committee (AIPAC) annual show in Washington would hardly be out of place in a Quentin Tarantino movie; picture a giant hall crammed with 7,500 very powerful people regimented by a very powerful lobby - plus half of the United States Senate and more than a third of the congress - basically calling in unison for Palestinian and Iranian blood.
The AIPAC 2010 show predictably was yet one more "bomb Iran" special; but it was also a call to arms against the Barack Obama administration, as far as the turbo-charging of the illegal colonization of East Jerusalem is concerned.
The administration has reacted to the quarrel with a masterpiece of schizophrenic kabuki (classical Japanese dance-drama) theater. Corporate media insisted there was a deep "crisis" between the unshakeable allies. Nonsense. One just has to look at the facts.
Only 10 days after scolding Israeli Prime Minister Benjamin Netanyahu for 43 minutes over the phone, US Secretary of State Hillary Clinton showed up at AIPAC spinning the usual platitudes. At least she talked about a "change of facts on the ground" in Palestine and stressed the current status quo is untenable. Netanyahu for his part apparently told Clinton in private (and later Obama as well) that Israel would take "confidence-building measures" in the West Bank, but would continue anyway to build settlements like there's no tomorrow.