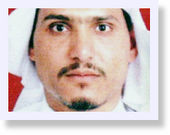 U.S. and Iraqi officials have today announced that two "Al-Qaeda in Iraq" leaders have been killed in an air strike carried out by American troops. A major flaw in the story that seems to have been overlooked, is that both of the men have already been reported captured and killed on several occasions, with U.S. officials also having previously declared one of them a "fictional character" that was invented by the other!
The
Washington Post
reports:
The deaths of Abu Ayyub al-Masri, the leader of al-Qaeda in Iraq, and Abu Omar al-Baghdadi, the head of an umbrella group that includes al-Qaeda in Iraq, should disrupt insurgent attacks inside the country, officials said. Their slayings could also provide Prime Minister Nouri al-Maliki (pictured above) with a decisive political boost at a critical time.

"The death of these terrorists is potentially the most significant blow to al-Qaeda in Iraq since the beginning of the insurgency," Gen. Ray Odierno, the top commander of U.S. troops in Iraq said in a statement. "There is still work to do but this is a significant step forward in ridding Iraq [of] terrorists."