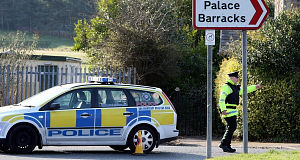 The Real IRA has reportedly claimed responsibility for a car bomb attack outside MI5 headquarters in Holywood in Co Down.
One man received shrapnel injuries in the explosion at Palace Barracks on the outskirts of Belfast.
The attack was timed to coincide with the devolution of policing and justice powers from Westminster to Stormont.
A taxi driver from North Belfast was held hostage for two hours before he was forced to drive the bomb to the base in his car.
Security personnel were evacuating the area when the device exploded and some of the 30 to 40 residents who were fleeing the scene at the time described diving for cover to avoid shrapnel from the blast.
Secretary of State Shaun Woodward condemned the attack and said: "Today Northern Ireland will complete devolution with the transfer of policing and justice powers to Stormont.