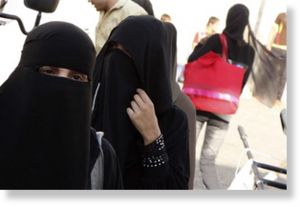 Syria has forbidden the country's students and teachers from wearing the niqab - the full Islamic veil that reveals only a woman's eyes - taking aim at a garment many see as political.
The ban shows a rare point of agreement between Syria's secular, authoritarian government and the democracies of Europe: Both view the niqab as a potentially destabilizing threat.
"We have given directives to all universities to ban niqab-wearing women from registering," a government official in Damascus told The Associated Press on Monday.
The order affects both public and private universities and aims to protect Syria's secular identity, said the official, who spoke on condition of anonymity because he was not authorized to speak publicly about the issue. Hundreds of primary school teachers who were wearing the niqab at government-run schools were transferred last month to administrative jobs, he added.