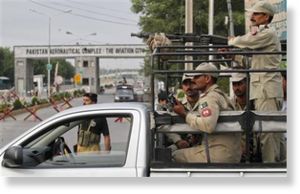 Kamra - Islamist militants armed with rocket-propelled grenades and automatic weapons fought their way into one of Pakistan's largest air bases on Thursday, the air force said, in a brazen challenge to the nuclear-armed country's powerful military.
The attack was repelled and only one aircraft was damaged, said an air force spokesman, adding that the Minhas air base at Kamra, in central Punjab province, did not house nuclear weapons.
"No air base is a nuclear air base in Pakistan," he said.
The gunbattle raged for hours, and eight militants and one soldier were killed, the spokesman said. Commandos were called in to reinforce and police armored personnel carriers could be seen heading into the base.
Pakistan's Taliban movement, which is close to al Qaeda and seen as the biggest security threat to the South Asian nation, claimed responsibility for the assault.
"We are proud of this operation. Our leadership had decided to attack Kamra base a long time ago," Taliban spokesman Ehsanullah Ehsan said by telephone from an undisclosed location.
The militants moved through a nearby village under cover of darkness and climbed a nine foot (2.7 meter) wall strung with barbed wire to break into the base, the air force spokesman said. Some were wearing military uniforms.